The RoboHornets are proud to participate in the Tulsa Mini Maker Faire. Maker Faire started in 2013 and has been growing every year. Booths related to arts and crafts, manufacturing, science, and engineering are set up that people can  learn about what each "maker" does. Some booths sell things, some offer learning opportunities, and some are just for fun. There are also science shows set up that kids and adults can watch and learn about physics and chemistry. Over four years, we have reached thousands of Tulsans to show them how cool STEM education can be.
---
2018
In 2018, we made another appearance at the Mini Maker Faire and participated with Jenks, Memorial, and Cascia. The RoboHornets partnered with the other FRC teams to set up the practice field for the 2018 FRC game, Power Up. At the Faire, we had a static display with a few matches here and there with the other teams.
2017
In 2017, we made a comeback to the Mini Maker Faire and participated with Jenks', Memorial's, Cascia's FRC teams. Before running demo matches often along with static displays, we helped set-up a practice field for the 2017 FRC game, Steamworks. A few of our members also participated in the FTC demonstration.
2016
2016 marked a major step up for FIRST's presence at the Mini Maker Faire.  The RoboHornets partnered with five other FRC teams (31, 932, 3507, 5889, and 6026) to set up a practice field for the 2016 FRC game, Stronghold.  We ran demonstration matches every 20 minutes, which allowed visitors to the Faire to get some idea of what an FRC competition is like.  There were also FTC, FLL, and Jr. FLL displays this year, so visitors could see the full range of FIRST programs.  This was also the first year in which a reliable count of visitors was made; the RoboHornets helped share STEM fever with over 2600 people.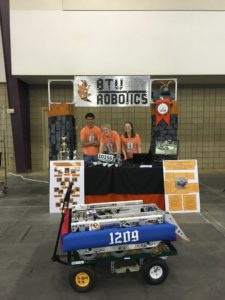 2015
In 2015, the RoboHornets repeated our presence at the Mini Maker Faire with interactive displays of FRC, FTC and Sea Perch robots.  Team 3507 was also there, as was Team 31 (Jenks High School).  In addition, the University of Tulsa Computer Science department had a booth at which they displayed a virtual-reality rendering of the Gilcrease Museum of Art and some robots that were made to help the Little Light House.  RoboHornets students participated in these projects during summer camps and also helped to staff the TU CS booth.
2014
The RoboHornets also participated in the Second Annual Tulsa Mini Maker Faire, held in August at Central Park Hall on the Tulsa Fairgrounds.  With a larger booth area, we were able to display not only our 2014 FRC Robot, Babar, but also an FTC robot, an underwater robot called Sea Perch, and one of our projects for the Little Light House.  As before, getting to drive the robots was a highlight for many children who were there.  Team 3507 (U-Botics) was also present, and the two teams impressed by playing a game of catch between the their robots.
2013
The first Tulsa Mini Maker Faire was held outdoors on Guthrie Green in October of 2013.  The RoboHornets braved the rain and wind to provide an interactive robot-driving experience for many of the children who attended and wowed attendees of all ages with Tisdale, our 2012 FRC robot that could throw basketballs.